Mental Health
Yes, we're talking about mental health! Something that was once taboo to discuss (especially in the workplace) has become a hot topic as more people are speaking out about their personal struggles. Research has shown that around 1 in 5 adults in the U.S. per year experience mental illness. That's over 46 million people! So, how do we manage mental health? Medication, therapy, exercise, mental health days, and…mobile apps?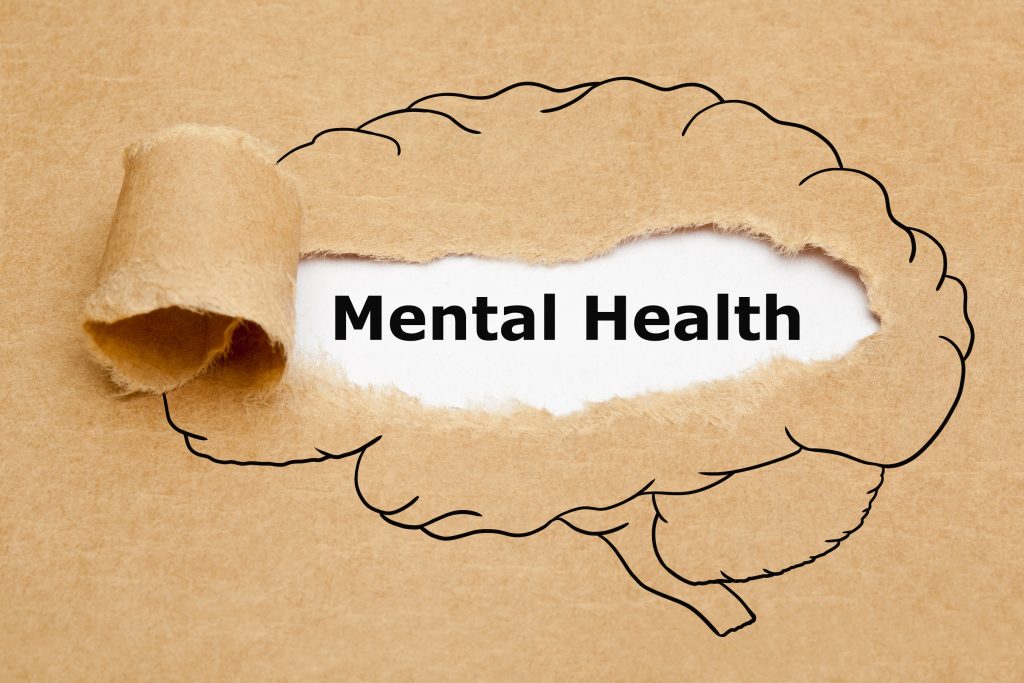 Your phone is with you all day, every day. The average person spends over four hours on their phone daily. Why not utilize this time for mental health? There are many apps available that can help; and I'd like to focus on a few of those that are powered by Artificial Intelligence.
While AI might seem like quite the buzz word lately, the technology is nothing new. It's been around for over 60 years and has become a part of our every day life. Many companies in travel, healthcare, banking, and even the food industry have used AI-powered chat bots for assisting customers. Major advantages to chat bots are that they are available 24/7 and can provide answers immediately. Even more, with Machine Learning technology, bots can "learn" how to support you better the more you interact with them.
Let's get to it! Here are three apps that offer mental health assistance using AI chat bots:
1. Youper – Emotional Health Assistant
Youper refers to their app as an Emotional Health Assistant. The app has over 36,000 ratings so far on Google Play and 6,000+ ratings on the App Store. So, what are people saying? Love, love, love, love, love. Can you believe their scores are (respectively) a 4.9 and 5.0 out of 5?! Sounds like a winner to me…and they claim the Youper app has been downloaded over one million times since it's launch in 2016.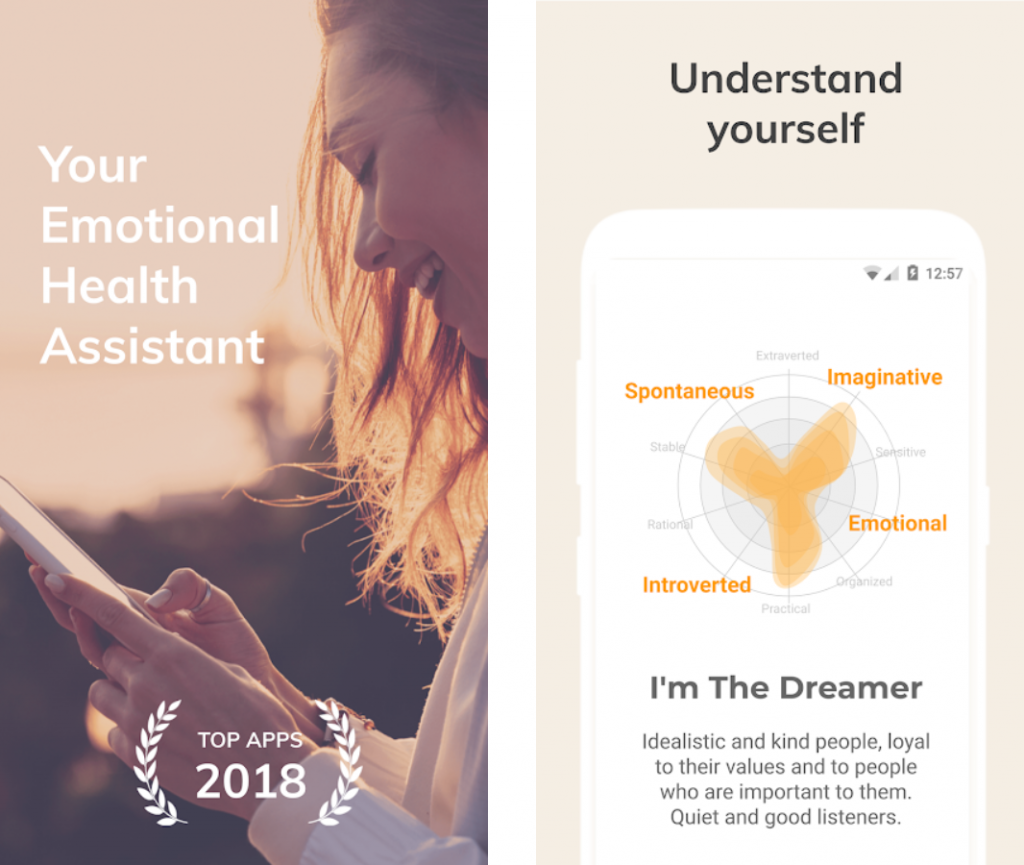 Their app store descriptions say that Youper is: "Your AI Assistant for helping you monitor and improve your emotional health through quick conversations based on therapy and meditation."
"Youper utilizes artificial intelligence to personalize various techniques to fit your needs. It incorporates techniques from Cognitive Behavioral Therapy (CBT), Acceptance and Commitment Therapy (ACT), Mindfulness and Meditation. Over time, your daily conversations with Youper help you develop a new understanding about yourself, improve your behavior and your relationships."
With the average session being under 10 minutes, why not take a little break to talk out those negative feelings that sometimes arise? A quick, personalized chat could be just the thing you need.
2. Woebot – Self-Care Expert
Lack of motivation? Woebot (clever name, don't you think?) checks in with you every day to provide some inspiration, insight, life skills, or whatever you may need to be your best self and to get through everyday struggles.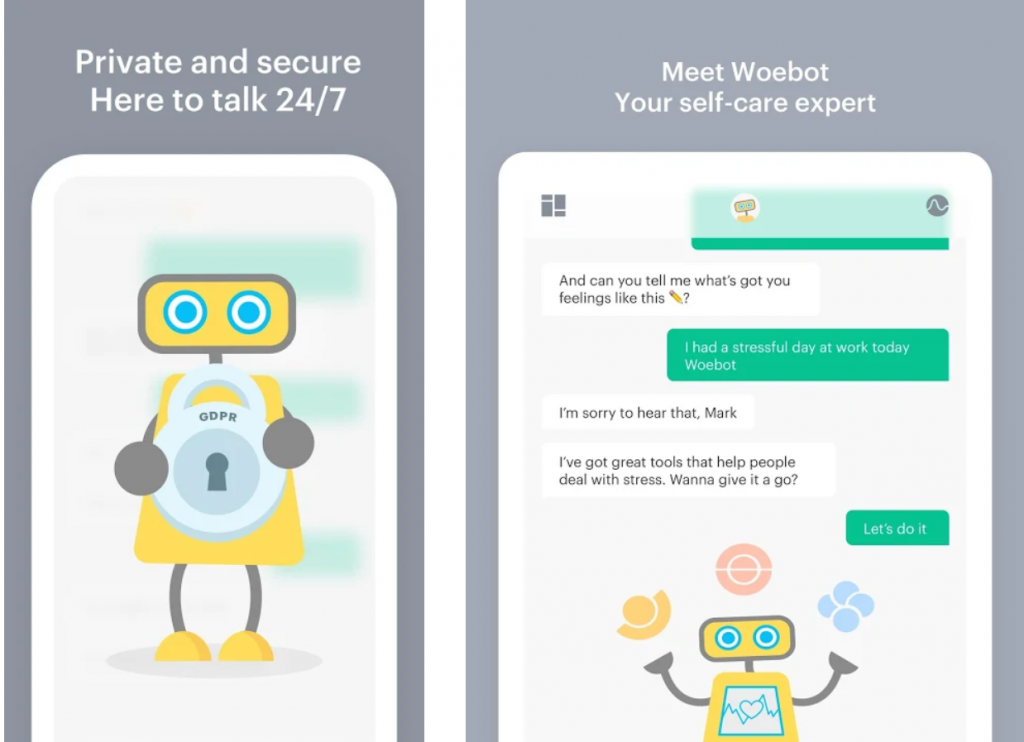 While a bit younger than Youper, Woebot seems to be gaining momentum and good ratings. The app comes in with a strong 4.6 on Google Play and 4.7 on the App Store. Even visiting Woebot's Twitter for a few minutes brought a smile to my face. After all, its website calls Woebot "your charming robot friend". User reviews noted especially how the daily notes from Woebot can turn their current focus to a more positive view.
Woebot claims to send "over a million messages per week to help users with everyday stress and challenges such as symptoms of depression, anxiety, relationship problems, procrastination, loneliness, grief, addiction, pain management and more…and guides you through practical techniques based on tried and tested approaches such as Cognitive Behavioral Therapy (CBT), Mindfulness, and Dialectical Behavior Therapy (DBT)."
You can chat with Woebot at any time and for as long as you'd like. Who doesn't want a robot friend to cheer them up when they need it the most, right?
3. Wysa – Private and Secure Anonymous Space 
Sometimes, you just need to vent, you know? We all have rough days, and complaining about them seems to provide a bit of relief. Venting thoughts and feelings can, at times, be overwhelming to ones that are on the receiving end; but that's where Wysa comes in!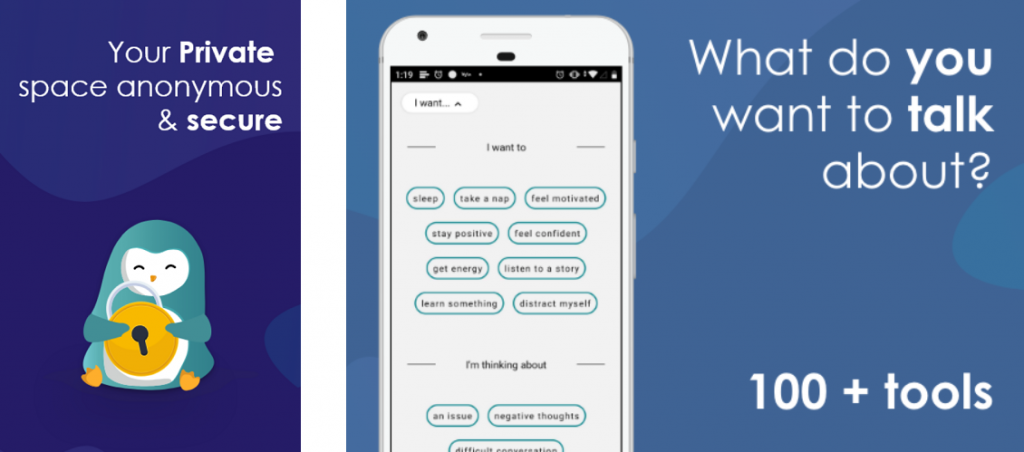 Wysa is another AI chat bot which learns and grows with you. In addition to this "pocket penguin", Wysa also offers human coaches – professionals who are trained to listen, support, and encourage you.
Their app descriptions say, "Wysa will support you through the big and small anxieties of life by using science as a foundation to strengthen your mental health. Research-backed, widely used techniques of CBT, DBT, Yoga and meditation are employed to support you with stress, anxiety, deep sleep, loss and other mental health and wellness needs." They also offer meditation exercises to help users relax and sleep peacefully.
How do Wysa's ratings compare? On Google Play, with over 18,500 ratings, Wysa holds a 4.5 out of 5. Though not as popular on the App Store, its users have given it an average of 4.6 out of 5. I'd say that's pretty solid! I also see that Wysa is very interactive in their reviews. EVERY REVIEW I saw had a comment from them. Now that is customer service! If you've ever felt that your app reviews go unread, you won't feel that with Wysa; and I think that goes for their app as well.
While these apps should not be considered a full replacement for professional mental health management, maybe they can help in the day-to-day struggles that many experience.
We want to hear from you!
Have you tried any mental health management apps? Let us know what apps have worked for you!
Do you have ideas for your own app? Contact us today and let's bring your vision to fruition. Our mobile experts can tackle any project – including chat bots and other AI-based systems.
Tags: mental health, artificial intelligence, chat bots, mobile apps, AI, machine learning
---
Leave a Reply